I have been absolutely drooling over the autumn soups and stew recipes.  Corn chowder
with bacon?  Yum.  Pumpkin soup?  Love that.  And of course beans, beans, beans are the star when the weather turns cold.
But corn chowder just isn't hearty enough for my crew.  My husband thinks pumpkin soup is chick food.  And beans?  Well, we already eat a lot of those.  We need something new.
I was inspired by the stories of The Three Sisters.
The three sisters are Corn, Beans, and Squash. They are seen as the three beautiful sisters because they grow in the same mound in the garden. The Corn provides a ladder for the Bean Vine. They together give shade to the Squash. The Cherokee till the mound three times.
Go read the legends, if you have time.
Anyway, this is basically a corn chowder, but uses white bean puree instead of cream and has pumpkin for a base instead of vegetable or chicken broth.  And of course it has bacon, because everything's better with bacon! And it's super easy, with just 5 ingredients plus spices.
And it's Crazy Cheap, coming in at around 50¢ per serving (plus bread).
Three Sisters Soup
serves 12 or more
4 c. white beans, cooked (I used my prepared dry beans from the freezer; you can use two cans of navy beans if that's more convenient.)
4 c. pumpkin puree (about 2 cans, or half a 10# pumpkin roasted or steamed, skin removed)
24 oz. frozen corn (or three cans drained whole kernel corn)
1 onion, diced
Cumin, garlic, chili powder, garlic, salt and pepper to taste (more is better with the cumin)
8-12 oz. bacon (more is better, in my opinion!  Omit bacon for a vegetarian option.)
Chop your onion.  Don't cry!
Soften your onion up and add the cumin and chili powder, plus a little salt to leach the juices out of the vegetables.  If you have leftover bacon grease, that's perfect!  You could add chopped carrots at this point to make things a little sweeter and more orange.
When the onion is translucent, add your pumpkin and your beans.  In my case, I added whole pieces from a roasted pumpkin. Add water if needed to stew the pumpkin, a little at a time.  Cook until pumpkin is soft and heated through (5 minutes if using canned puree, up to an hour if using roasted pumpkin, maybe a little more.  Your beans should be very, very soft.
Use a blender (pitcher or immersion) and blend until smooth.
Add a little water or stock to loosen things up, and simmer stirring occasionally, for half an hour or so.  How much water you add is up to you- add it to your desired consistency.  Adjust the seasoning with more salt, pepper, cumin, and chili powder.
Meanwhile, chop up the bacon into fingernail sized pieces.  Cook until barely done in a heavy skillet.  Add the corn and pan roast it in the bacon drippings.
Stir bacon and corn into the pumpkin bean puree.  Serve with fresh whole wheat rolls and butter.
Variation: use black beans instead of white beans and add them whole with the corn and bacon to the pumpkin puree to make a Three Sisters Chili.
Linking Up!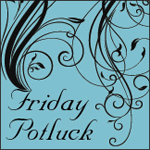 Grocery Cart Challenge Recipe Swap